Lady Linda Figler, Grand High Priestess
    

Symbol: Heart
Egyptian Symbols: Eye of Horus
Motto: Turn on your Heart Light, Let it shine for all the world to see and always be your own kind of beautiful

Colors: Black, White, Red, Orange, Magenta, Green, Purple, Capri Blue
Jewels: Fire Opals, Gold, Rubies, Pearls
Flowers: Poppies, Daffoldils, Red Roses, Gardenias, Sweet Peas
Birds: Pelican, Blue Footed Boogie
Animals: Leopard, Lions, Crab, Octopus, Walrus, California Golden Bear, Wombat, raccoon, & the Hairy Snouted Hog
Fun Symbols: Clown Fish Black Cats, Toads, and Witches
Songs: "Heart Lights", "My Way", "I Hope You Dance", "Open the Door" by Judy Collins, "Can I Have This Dance", "No Time at All", "No Man is an Island", "Wind Beneath My Wings", "Music of the Night", "The River""
2022-23 Special Project - Committed to Children. The Ladies Oriental Shrine was formed in 1914 by a group of women who wanted to have fun. As the years went by these Ladies became instrumental in the day-to-day care of the children in the Shrine Hospitals, holding babies, exercising limbs, feeding, nurturing, and encouraging them during very difficult times in their lives. These opportunities are quickly disappearing and in some ways our connection to this amazing philanthropy is eroding. This project will allow us to once again, personally connect and give to these incredible children. By funding special projects, purchasing needed items for Hospitals, Medical Centers, our Shrine Children, and families in your areas, together we can make things happen.
Build A Bear Centers, Burn Camps, Video Games, Books, Outings, Holiday Parties, Gifts, Special Transportation Needs, Equipment, Gift Certificates and even an annual college scholarship fund for our Masonic Youth and Shrine Children. If you have a project you would like help with, submit your requests and we can once again work as a team and make these special children and their families know we care, and they are loved.
Turn on your heart light for all the world to see and always be your own kind of beautiful.
See Events Page for GHP Calendar of Official Visits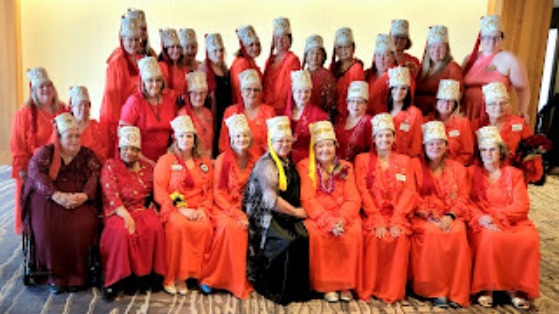 2022 Grand Council Seattle Washington
2022 Grand Council Seattle Washington