The Ladies' Oriental Shrine of North America (LOSNA) was founded over 110 years ago. The aim and goals of the Ladies' Oriental Shrine, as set forth at the organizational meeting in 1903, are to promote sociability, good fellowship and the betterment of all Ladies connected with the organization. When the Shriners founded the Shrine Hospitals for Children and the first hospital was built in 1922, the Ladies committed to supporting the Shrine's official philanthropy. The Shrine's 22 hospitals offer treatment in orthopedics, burn care, cleft lip & palate and spinal cord injury. These treatments are provided regardless of the patient's or family's ability to pay.
Today the Courts across North America continue to support the hospitals through sewing projects, research projects and other areas of interest. Each Court not only raises funds for the hospitals, but they donate clothing, stuffed animals, purchase equipment, staff the information desk in the various hospitals and serve as office personnel on a voluntary basis. The LOSNA contributes well over a half million dollars yearly to the Shrine Hospitals.
LOSNA is not an auxiliary of Shriners International but a separate and distinct Order. We are passionate about helping Shriners help kids!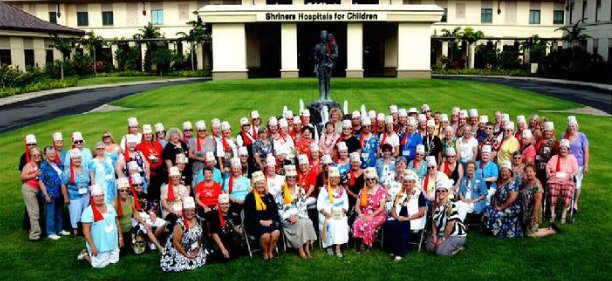 ---
"The Ladies' Oriental Shrine of North America promotes fun, fraternal fellowship, and philanthropic endeavors supporting Shriners Hospitals for Children and community based charities."
---

"Children are our most valuable resource and it's best hope for the future."

John F. Kennedy